The Nissan JUKE is in Peoria, Illinois!
One look at the brand new Nissan JUKE and you can see that it looks nothing like any other vehicle on the road. This car doesn't blend in, it stands out. Prepare to hop off the bandwagon and embrace originality. Whether you're shopping for cars in Peoria, Springfield, Bloomington Normal, Illinois, or in the rest of the world it doesn't matter. There is no comparison. The Nissan JUKE looks like a wild animal ready to pounce, its athletic frame poised and ready for action. It's rare when something original comes along, and even rarer when it's as bold as this. The status quo won't know how to react when you drive the Nissan JUKE through Central Illinois.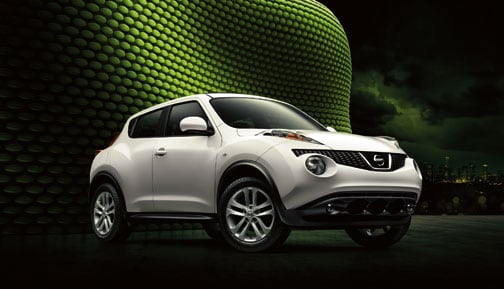 Appearance
The low profile of the Nissan JUKE brings to mind images of sports coupes. The rear door handles have been built into the body, maintaining the sleek appearance of the vehicle. The lights have been separated into different clusters, with the running lights and turn indicators elevated on the swooping hood. Beneath the running lights, the twin lamps have been placed low to handle the darkness of the night. These lower lights were inspired by 60's and 70's rally cars, and are a testament to the performance of the JUKE and where it derives its inspiration.
Interior
When you sit in the driver's seat of the Nissan JUKE, one look at the speedometer and tachometer will tell you all you need to know. These are crafted out of brushed steel and indicate the Nissan JUKE's preference for speed and performance. The bold and flowing center console was inspired by the fuselage of sports-bikes. The rest of the cockpit again takes its cues from sports car design, keeping the driver poised and ready for the trials of the Illinois and Peoria roads.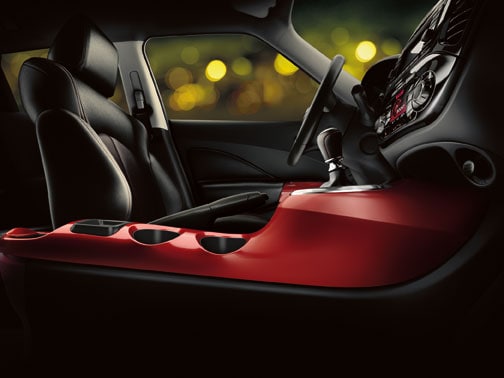 Technology
The Nissan JUKE has a USB port that you can connect to your mp3 player. From there you can control your music through the Nissan JUKE's touch screen interface. The Nissan Navigation System is an option available on the Nissan JUKE. It will allow you find your destination anywhere in Illinois and beyond through the full color touch screen. Plus it keeps you updated on traffic, so you can avoid rush hour jams in Peoria, Bloomington Normal, and Springfield. Bluetooth allows you to use your cell phone hands free for a safer drive. The D-Mode allows you to create a profile of driver characteristics suited to you, and this can be switched on instantly. Switch seamlessly between Normal, Eco, and Sport driving modes depending on your preference and situation.
Engine
The Nissan JUKE's DIG Turbo engine provides a turbocharged performance at your whim. If you need passing power or quick acceleration around the streets of Peoria or Bloomington Normal, or especially on the Illinois interstate roads, the power will be there for you, waiting. By the same token, if you want to ease up and drive more economically to save gas mileage, that option is available.


Performance
The Nissan JUKE comes with Continuously Variable Transmission. This gives the driver excellently smooth transitions as they're traveling through Pekin, Morton, Galesburg, or on the highways of Illinois. For those who want to exercise more control, a 6-speed manual transmission with a close-ratio design aimed at performance is available. The Nissan JUKE can switch to Sport Mode with the touch of a button. If you want premium performance, this is your mode. Independent suspension is available on the Nissan JUKE, as are 4-wheel disc brakes.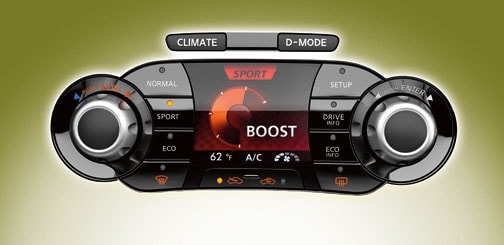 Safety
The Nissan JUKE has all-wheel drive for superior safety and performance on the roads of Peoria, Springfield, Galesburg and beyond. The All-Wheel Drive system is always on and moves power between the front and rear. In addition, if one side of the rear needs more power, the system will automatically transfer power over to the tire in need. This will allow you to take advantage and stay on top of the different terrain in Central Illinois and around Peoria, Galesburg and Bloomington.
Options & Upgrades
A standard Nissan JUKE from Uftring Nissan in Peoria
will please any driver. At the same time, there are additions that can be made to the Nissan JUKE if the buyer so desires. The Torque Vectoring All-Wheel Drive system, manual transmission, and independent rear suspension (on AWD models) are the mechanical upgrades available. These assist in providing additional performance and safety for the Nissan JUKE in Peoria Illinois.
Interior upgrades abound. Options include leather seats, heated seats, Nissan Intelligent Key with push button ignition, power sliding glass moonroof, Nissan Navigation System, USB connection port for portable devices, RearView monitor, the Integrated Control (I-CON) system driver interface, and a Rockford Fosgate powered subwoofer. These upgrades range from safety and convenience to entertainment. Your friends will be jealous.
In Stock Now
For anyone interested in a
2012 Nissan JUKE in Illinois,
The Nissan JUKE is now available at Uftring Nissan Peoria. Browse our Car Finder
, call us or stop in today to see and drive this beautiful new sport crossover. Stay close to our website, Facebook Fan Page
and our Uftring Auto Blog
for future updates and announcements regarding Nissan and the Nissan Juke. You can check out our Finance Page
and fill out an application
to begin working on finance options and get pre-approved for our new Nissan and used Nissan vehicles
, be it the Nissan JUKE or anything else you're interested in.

In the mean time, please browse our selection of new and used Nissans. If you're in need of high quality Nissan service or official Nissan parts , we've got you covered. We also service other new and used vehicles. We hope to see you at Uftring Nissan in Peoria off of Allen Road and Willow Knolls Drive sometime soon!